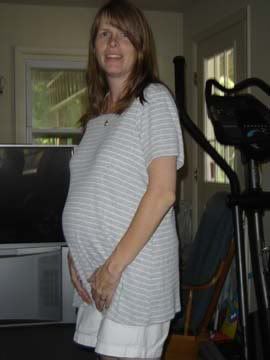 Had my 27wk appt today and all is well. Munchkin is growing just like she should be. I was pleasantly surprised at my weight gain. I thought for sure that I was going to have gained 10 lbs this month but turns out I only gained 5.5 lbs. Guess my home scale weighs heavier than the drs scale. Will have to keep that in mind for future weighings. :) Have to go back in two weeks to have the glucose test done. Yuk! That has to be my least favorite part of being pregnant.
Tonight was carnival night. Took all the kids and usually they are really looking forward to going but tonight they started off kind of grumpy. By the end they were fine, though, and didn't want to leave. Everyone had a good time and enjoyed all the rides they rode with the of one ride that Tay was on. He absolutely hated it but I guess the only way to find out if you like something is to try it. Kenzie was the only one who didn't get to ride because of her broken collarbone so she played games all night. She was happy that she won a couple of things.
I was able to get some stitching done last night...finished up the last few stitches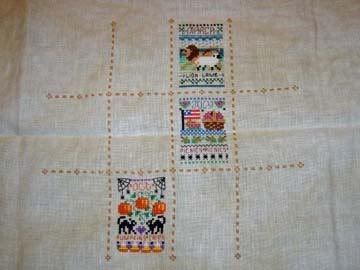 on my mini rr before it's due to go out. It's a seasonal month design and currently looks like the pic shown here. It's stitched on 32ct Merino Belfast linen. Now I just need to get the paperwork together for it so that it's ready to go in the mail this weekend. I also stitched a little on a Christmas ornament.