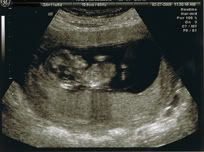 I had my ultrasound for the nuchal fold test which is a check for down's syndrome this morning. Everything looks great there and baby is measuring right on target...he's measuring about a week before my due date so he's growing well. And yes, I did say HE as they are thinking that this one is
going to be a boy. Things are still pretty tiny so it's hard to say for sure but it definitely looked like there was something there. We should be able to find out for sure at my April 11 u/s assuming that he is as cooperative as he was today. They were done the test in less than 5 minutes whereas last time it took almost 1/2hr to get Kearsyn into the right position to the measurement. They said he was laying in the perfect position today. Also had my 12 wk drs appt this afternoon although he laughed and said there really was no need for it since all he was doing today was listening for the heartbeat and since I'd already seen this morning, it didn't really matter.
Here's a couple pics of him. He looks like such a tiny little thing in the 3D pic.
I sure hope this boy likes a pink room and pink carpet as that's currently what color the baby's room is. Guessing we'll be painting at some point before he gets here. LOL