Although we didn't go anywhere, other than to the dr for Kearsyn Saturday morning (I'll get to that later), we had lots of company coming over to see Kearsyn. My SIL and her family came over Saturday and spent the afternoon with us. We don't get to see them all that often...especially my BIL because he works side jobs on the weekends...so it was nice to spend some time with them. The kids are especially happy when they come visit because that means they get to play with their two cousins. On Sunday, my sister came over, as well as, my mom, dad and good friend of the family. My sister is a hoot because you'd think after all the kiddos I've had she'd feel comfortable holding them when they're this little but they still make her nervous. LOL
We took Kearsyn in Saturday morning for a weight check. She weighed in at 7lbs 5oz which totally surprized me since she weighed 7lbs 6oz when she was discharged from the hospital on Thursday and she'd been eating a ton since then. Even the dr was a little surpised and commented that maybe their scale was measuring differently than the one in the hospital. She was also a little concerned about Kearsyn's jaundice so she sent us off the hospital to get a bili test done. Her bili #'s were 10.2 when we left the hospital on Thursday and were 13 when we had it retested on Saturday...both within normal range for her age. And don't even ask hubby how he felt about having the test done...we really won't go there. ;) I took her back to the drs for another weight check today just to make sure she was gaining weight and she is now up to 7lbs 9oz, 1oz shy of her birth weight, so she's doing great! She's still a little jaundiced but with the way she's eating and gaining weight and her alertness level going up, it's nothing to worry about. If she were to become lethargic before her next appt (which is next Monday, 10/23) and she still looks jaundiced, then I'm to call them to have her bili levels rechecked but I'm expecting to have to do that. We'll also have Bekah's 2yr checkup done that day as well. Easier to do them together than making a special trip back for Bekah.
Kearsyn is much more alert now than she was just a couple of days again. She looks up at you with the biggest blue eyes that you know can't really see you yet. She's constantly blinking as if she's trying to bring things in to focus. Here's a pic of her gorgeous wide open eyes. =)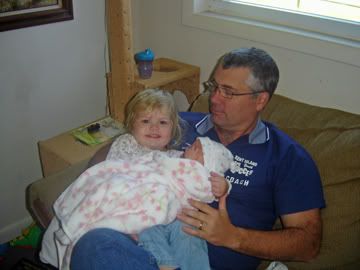 Bekah just loves her little sister. She is constantly giving her kisses and hugs. Here's a picture of her with Kearsyn. You just can't beat that smile she has.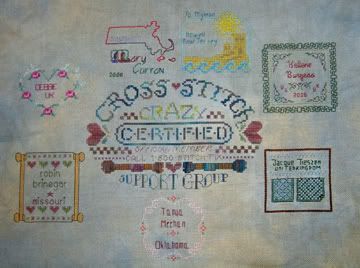 I haven't done any stitching since Kearsyn was born but I'm hoping to get back to it soon. I did receive my Single Theme RR in the mail today...you gotta love unexpected stitchy mail. I'd forgotten how much I liked the fabric that I chose to stitch this piece on...all the browns and blues in the piece. Thanks to all the laies that stitched on this piece. Everyone did a wonderful job.
I believe that's all the updates I have for now. I think it's going to be a long night. Everytime I go to lay Kearsyn down she wakes up fussing. Wonder if there will be ay good shows on tonight...highly doubtful.