or as relaxing as it can be with 6 kiddos running around but at least they were running around at home and not between different soccer fields. My inlaws came over Saturday morning and that's always good for getting the kids wound up. Other than doing a little laundry, I basically didn't do anything this weekend. Andy, Bekah and I did take a walk along the river on Sunday while the rest of the kids were with friends. It was a beautiful day for a walk but man did my legs and hip hurt by the time we got back. Was trying to see if I could entice the little to want to come out...I think she's been in there long enough at this point. ;-) I have another drs appt tomorrow morning so we'll see if anything is going on but I'm not counting on it. She is getting incredibly uncomfortable though...has her feet wedged up under my rib cage at this point. At least I'm hoping it's feet cause if it's anything other than that we're in trouble.
Was a long night last night...started with Taylor waking me up at 1am. Took him coming down to our bedroom twice for me to figure out what was wrong with him...needless to say I wasn't very coherent at that time of the morning. Turns out he had an upset stomach. Finally got him settled down about 2 hrs later and then Bekah decides to wake up screaming. She had one of her nightmares...poor thing. So after all that, I didn't end up getting to bed until after 4am. I was a tired little puppy today...especially when I was trying to get some work done. I was just about to log off from work in the early aftenoon to go take a nap when one of my coworkers IM'd me with a problem so I had to help her figure that out. So that meant no nap, but at least I got most of my work hours in today. Let's hope that the kiddos all sleep tonight otherwise I'm going to be even grumpier than I am right now.
I've been stitching quite a bit lately. Finished up a fish mini rr. I did the two little fish towards the top in the tank on the left and also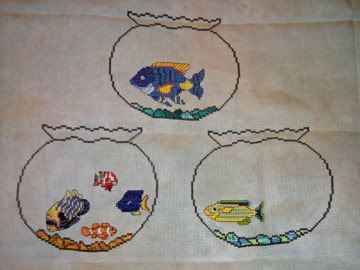 the fish in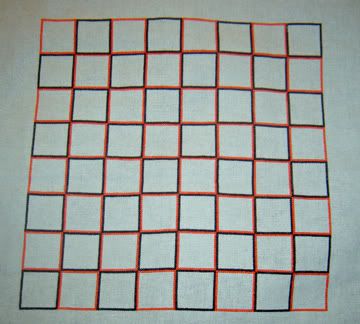 the right hand tank. This is going to be such a cute rr when it's finished. I've also been working on the Halloween Mystery GameBoard Sampler. I completed all the boxes last night...now to wait for the next installment to come out. Not sure what I'm going to work on next. I don't feel like working on Mother's Bliss right now so I'll have to dig through my other wip's to see what catches my interest.
And just for the fun of it, here's a picture of Bekah being goofy. =)