Bekah got her big girl bed today and she was so excited about it. She had the biggest grin on her face that you could imagine when we finally got it put all together. She's having a hard time staying put in it now that it's time for bed...funny how she had no problem being in it earlier when Taylor and her spent the afternoon playing in it. LOL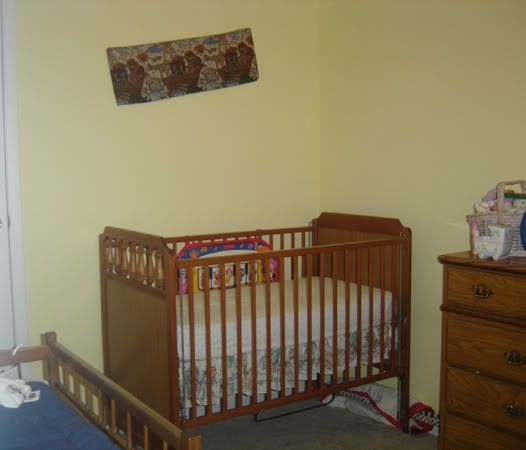 This means that I was able to get the crib moved over into Kearsyn's room so now her room is complete other than putting some additional items on the walls. I still need to get frames for my Noah's Ark stitching to hang in there but eventually that will get done.
Kearsyn did excellent while I went to my two appts today. She slept the entire time I was gone both times...approx 1 1/2 - 2 hrs each time...that might have had something to do with me stuffing her full of milk before I left. LOL I got a clean bill of health from my OB with instructions to come back in a few months for my annual. Ugh! Everything checked out at the eye doctor as well and I made it out of there without needing a new prescription. Whew!
Andy and the kids decided it was time to put the Christmas tree up...we're trying to having all the decorations done by the time my family comes over for Thanksgiving. Because we don't have much room this year, Andy decided that we should only put up half a tree. Now when I first heard this, I thought he meant the top half of the tree and couldn't figure out how that was going to help us (just blame that on sleep deprivation) but in reality he meant the front half of tree, leaving the back half off so that it could sit flush against the wall. I have to say it was a good idea and works really well. They were able to get all the branches assembled but I have to say that their grooming ability leaves alot to be desired. But as I was told, their job is to make the tree functional while by job is to make it pretty. LOL Tomorrow I'll work on fluffing up the tree so it doesn't have any holes although Andy claims those holes would be good to put ornaments in. Hmmm...LOL I'll take a picture of it once it's completely decorated.
That's about it for the day...was a long one for me as I'm not used to doing all this running around so I'm going to be tired tonight. Let's hope Kearsyn's goes back to sleep after she's gets her middle of the night feedings...she has a habit of eating and then staying awake for another hour looking around before she drifts back off to sleep.
I'm sure most have read about this already on Andy's blog but just thought I mention it here that we have a hawk making breakfasts out of our chickens. Hopefully the netting that Andy and Kenzie put over the run this morning will keep him, and any of his friends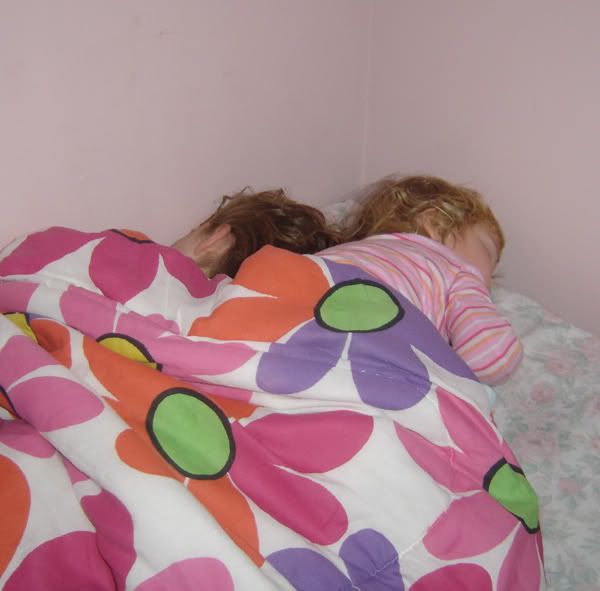 , at bay.
I just went to check on how Bekah was doing in her bed and found what the pic shows. Now that's true sisterly love.