Appetizer
Have you ever changed a flat tire by yourself?
I've had two flat tires since I've been driving...the first one I tried to change by myself but couldn't get the hubcap off...I was excited that I could actually get the car jacked up. ;) Thankfully about that time, a good samaritan and a cop both showed up to help me. The second time I was pregnant and I figured if I couldn't change a tire when I wasn't pregnant, there was no way that I'd be able to do it when I was pregnant so I didn't even bother to try. A state highway truck came by about 5 minutes after I had stopped on the side of the road and chang
ed the tire for me.
Soup
Do you have an "innie" or an "outie" belly button?
Innie...except when I'm pregnant. ;)
Salad
Name a new paint color and describe it.
Hmm...haven't a clue.
Main Course
What is your favorite holiday tradition?
For Thanksgiving it would be having the normal meal each year...turkey (both oven baked and deep fried), stuffing, sweet potatoes with marshmallows, watergate salad, veggies, rolls and lots of yummy desserts...pumpkin pie & apple pie.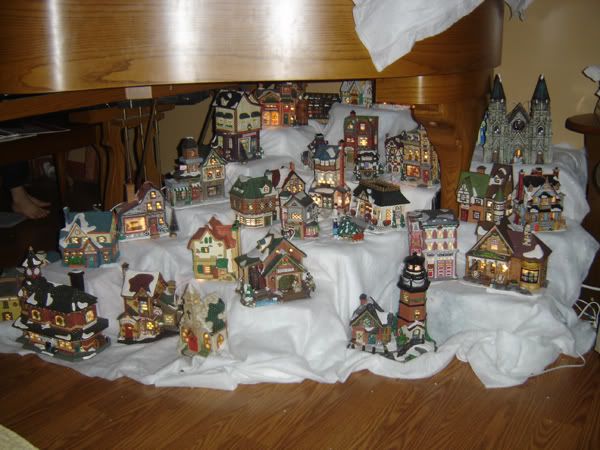 For Christmas it would be setting up our Christmas village. DH sets up the vill
ag
e each year and I love how he makes it in layers.

At the request of several people, I've updated to include a picture of our village.

Dessert
If you were a cookie, what kind of cookie would you be, and why?
Chocolate chip because they tend to be a nice comfort cookie...at least in my view.


Click here to join the Friday Feast