With Kearsyn's baptism on Sunday, that means that the house needs to cleaned which I think is an impossibility around here. I'd get one room clean today, move to another and when I'd go back to the first, it would be destroyed again. How do you control all the stuff that seems to accumulate in a house and keep little one's from pulling out what you've painstakingly put away? I was able to get the tv room, Bekah's room, Kearsyn's room and the twins room picked up although the twins room now needs another pick up. Ugh! Tomorrow I've got to get to Kenzie's room, Alex/Connor's room, the bath rooms, the family room and the kitchen. The kitchen actually isn't too bad...really just needs the floor mopped. The kids have soccer games first thing in the morning. I'm not sure if that will be a good thing to have them out of hte house or not as I'm not generally coherent at 8am so I don't think I'll be doing much cleaning at that time. I also need to go in the closet and pull out my regular clothes that I had boxed up when I got pregnant to see what I can find to wear on Sunday. Not sure what I can fit into yet as I still have to lose 15-20 lbs.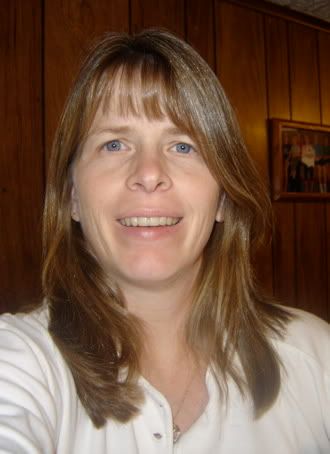 In addition to cleaning, I also went and got my hair cut today. It had been months...actually probably longer than that...I'm not sure I've gotten it cut since I got pregnant...so needless to say it needed it and it was driving me nuts. And since I'm sure someone will ask to see a picture, I've included one. I don't look any different than I normally do...just got several inches cut off the bottom but style is still the same.
And speaking of Kearsyn's baptism, it occurred to me last night that I needed to get out the baptism gown. A good friend of the family made one for McKenzie's baptism which was also used when Rebekah was baptized. I looked in the closet where it had been packaged away and wouldn't you know it wasn't there. Ack!! Trying not to panic when thoughts of where am I going to find another baptism gown only 2 days before the baptism not to mention that gown was special since it had been handmade for us start flying through my head, I decided to check in Kenzie's room and thankfully found it in her closet. I'm not sure why it was in there...I think maybe she thought it was a play dress because I found part of it on the floor and the other piece kind of hanging up. Because it was out of it's packaging, it's gotten extremely yellowed so then I'm freaking out about how awful it looks. The only recourse I have is to try bleaching it although that makes me nervous because it's a combination of silk, lace, ribbon and beads and I'm not sure how the bleach will affect the three pieces. After much soaking the worst of the yellowing is gone...the lace and ribbon is back to a pristine white, the beads don't seem to have been affected and the silk is kind of a light ivory color...it should be white but at least everything is all one shade again and you can only tell that it should be white when the the hat is put next to the gown and jacket (the hat had been packaged separately). It shouldn't be too noticeable though. I do need to make a couple of small repairs to it. One of the ribbon ties on the jacket is hanging on by a thread and there is also a small tear in the sleeve of the gown. That one bums be out a bit but there's not much I can do about it other than to stitch it closed. Here's a pic of what the gown and jacket look like.