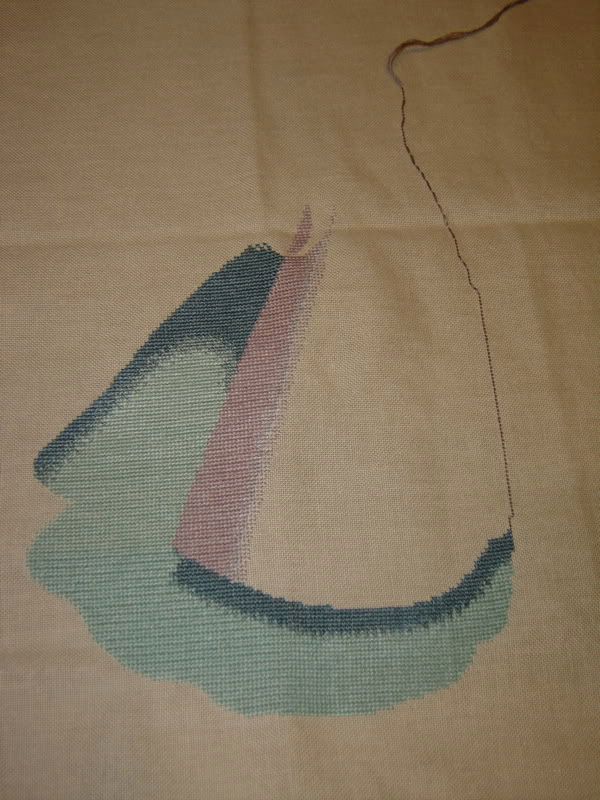 I've finally done a little bit of stitching over the last couple of days. I've finished with all the light green on the Mother's Bliss dress. Now I'm going to switch over to the Quaker Mystery Sampler until the next mini rr piece makes it my way.
I've also finished up a couple of books over the last few days...A Good Yarn and Round Robin.
A Good Yarn by Debbie Macomber: Lydia Hoffman owns the shop on Blossom Street. In the year since it opened, A Good Yarn has thrived -- and so has Lydia. A lot of that is due to Brad Goetz. But when Brad's ex-wife reappears, Lydia is suddenly afraid to trust her newfound happiness. Three women join Lydia's newest class. Elisa Beaumont, retired and bitterly divorced, learns that her onetime husband is reentering her life. Bethanne Hamlin is facing the fallout from a much more recent divorce. And Courtney Pulanski is a depressed and overweight teenager, whose grandmother's idea of helping her is to drag her to seniors' swim sessions -- and to the knitting class at A Good Yarn.
Round Robin by Jennifer Chiaverini: Round Robin reunites readers with the Elm Creek Quilters in this poignant and heartwarming follow-up to The Quilter's Apprentice, Jennifer Chiaverini's acclaimed debut novel. The Elm Creek Quilters have begun a round robin ... a quilt created by sewing concentric patchwork to a central block as it is passed around a circle of friends. Led by Sarah McClure, who came to Waterford, Pennsylvania, with her husband, Matt, a few years ago, the project is to be their gift to their beloved fellow quilter Sylvia Compson. But like the most delicate cross-stitch, their lives are held together by the most tenuous threads of happiness ... and they can unravel. As each woman confronts a personal crisis, a painful truth, or a life-changing choice, the quilt serves as a symbol of the complex and enduring bonds between mothers and daughters, sisters and friends. In weaving together the harmonious, disparate pieces of their crazy-quilt lives, the Elm Creek Quilters come to realize that friendship is one of the most precious gifts we can give each other, and that love can strengthen understanding, lead to new beginnings, and illuminate our lives.