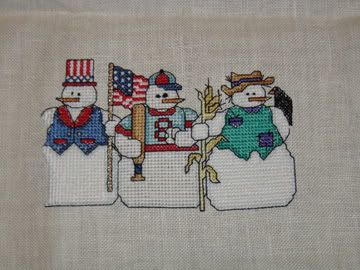 I was able to finish up Jo Anna's snowman mini rr last night. It was fairly easy to stitch although it had a ton of half stitches and lots of backstitching. Thankfully I enjoy backstitching. :) I did the September snowman...the one on the far right. These little guys are from a pattern called Happy Everything. It's adorable.
I'm now going to start working on Robin's Finishers Too piece. It's some kind of cabins, I believe, although the name of the pattern is escaping me right now.
I went to library yesterday after voting and picked up some more books. I'm really enjoying reading again and gives me a nice break when I get tired of stitching. And, since I can't move around and play with the kiddos as much right now, it gives me something to take outside so I can still be with them. I can sit on the swing and read while the kids run around and play.
Tonight was the mandatory parents meeting for Connor and Kenzie's chorale. That meant I got to leave work early to get there in time which was okay with me as I was very tired by that point. They talked about all the normal stuff...when the concerts were, what fund raising needed to be done, volunteers that would be needed during the course of the year, etc. This year there are a ton of new kids so that's wonderful. It was pretty sparse last year. The director of the chorale announced that this would be her last year and they've brought in an assistant to work with her throughout this season in preparation of him taking over next year. Connor really liked him which is good. The verdict is still out with Kenzie. LOL We'll be doing a fund raising spagetti dinner next month, 10/14, that we had to sign up to either work at or bring cakes to. I opted for the cakes but lets hope this munchkin doesn't decide to come early otherwise I'll forget all about the cakes. LOL This dinner made quite a bit of money for the chorale last year and it was fairly easy to put on. It sounds like the Festival for this season (scheduled for March 07) is going to be back in Frederick again. That's where it was last season. This is where 4 choirs from around the state get together and practice for a day and then put on a combined choir in the evening. I missed the one they did this past March due to morning sickness. Not sure I'll be able to make this next either due to the baby. Looks like hubby might get to make that treck again. ;)